Old Street Solutions Custom Charts' Dashboard for HR
Jun 20
If you've known Atlassian for a while, you might have seen how it evolved into what it is now, a highly comprehensive management solution. It originally started as a tool for IT service management and developers, and now, it has grown and developed into a tool that is able to provide project management support for other types of teams. It has become one of the widely used tools for agile development and is useful for tracking stories, bugs, epics and other tasks.
In 2021, Atlassian introduced a new platform called Jira Work Management (JWM) which is designed for business teams. Within JWM, there are different business templates available, and you can choose one that best meets your requirements. There are templates for HR, finance and legal among others. 
From a Jira project perspective, the Atlassian tools have greatly evolved over the years and are able to effectively support business teams. However, the same can't be said when it comes to reporting because Jira has major data points and customization limitations. That's where Custom Charts for Jira comes in handy.
In this article, we'll show you how you can use Custom Charts to optimize your Jira.
Custom Charts' Dashboard for HR
For HR teams, if you want to track recruiting and hiring, there's an HR template in JWM that includes "Candidate" as an issue type and you can use it for tracking potential hires. Behind this issue type, there's a Jira workflow. There are statuses that represent the various hiring process stages. Depending on what information you'd like to gather about the "Candidate," you can also use the custom fields in Jira which include the following:
Department

Position

Start date

Source (how the candidate found the role)

Candidate name

Location

Are they an internal applicant?
Once you are done with the above, you can then create a Jira dashboard so that your team could have easy access to information about a potential hire. You could use the dashboard to provide a quick view of the progress of your new hire from the start to the actual filling of roles. For this purpose, you can take advantage of third-party tools such as Custom Charts for Jira to make your dashboard more comprehensive and easy to navigate. 
Here are some of the sample dashboards you can create using Custom Charts for HR!
Example #1. 
Candidates in each stage of the hiring process
Let's say there are six open roles available in your company, and each role gets a lot of applications and your HR team would like to make sure that the total number of applications doesn't exceed your limit. You can easily view this information using Custom Charts.
Sample Bar Chart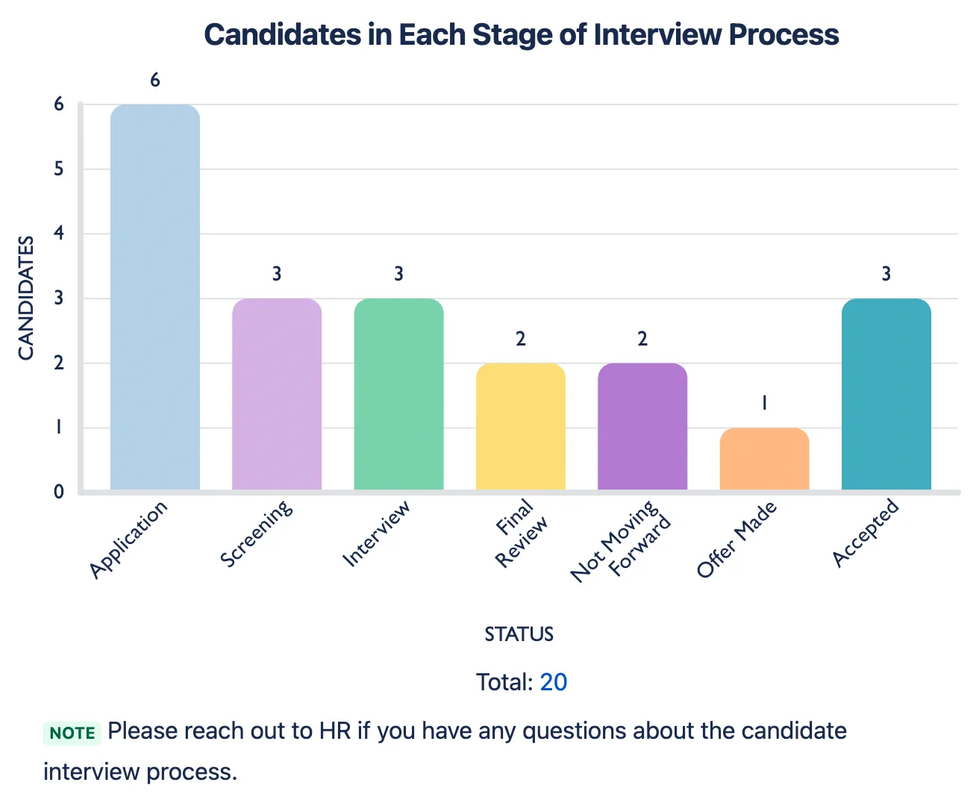 If your HR team set a maximum application limit to 25, looking at the bar chart that you can create using Custom Charts, you can easily see that there's still room for five more applications. 
Example #2. How candidates found you
Another useful chart that you could create in Custom Charts can help your HR team identify the different areas where candidates found the open position. It's useful to understand how potential hires found you so that you'll have insights of where the position gets the most traction and which campaign or initiatives generate the most applications. Moreover, it's also a great way of tracking referrals.
Sample 1D Table Chart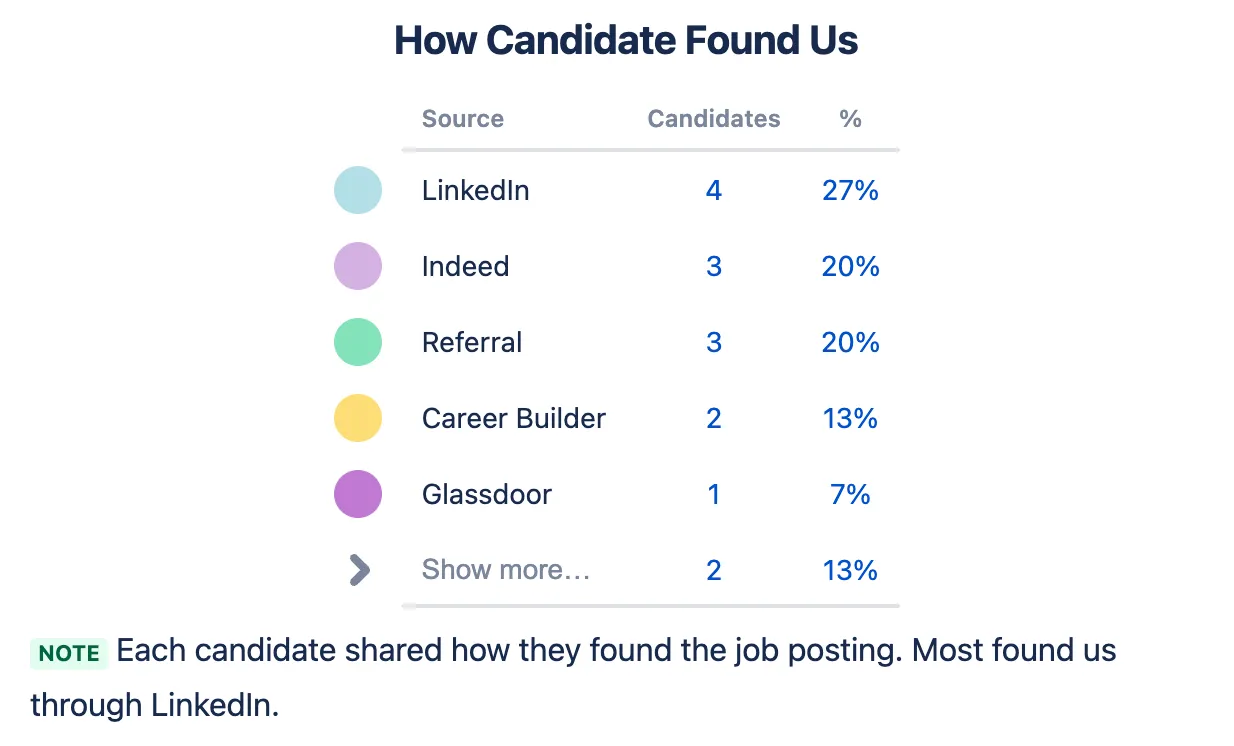 The ID Table Chart above shows you the different sources where the candidates found your job posting with the percentage of candidates from each source. Looking at the chart, we can easily tell that about 27 percent of your candidates found you on LinkedIn and only 7 percent found you on Glassdoor.
Example #3. Candidates by department
If multiple departments in your company have open roles, it's important to know which positions are being filled and which are not. You can easily visualize this using a Tile Chart by department in Custom Charts.
Sample Tile Chart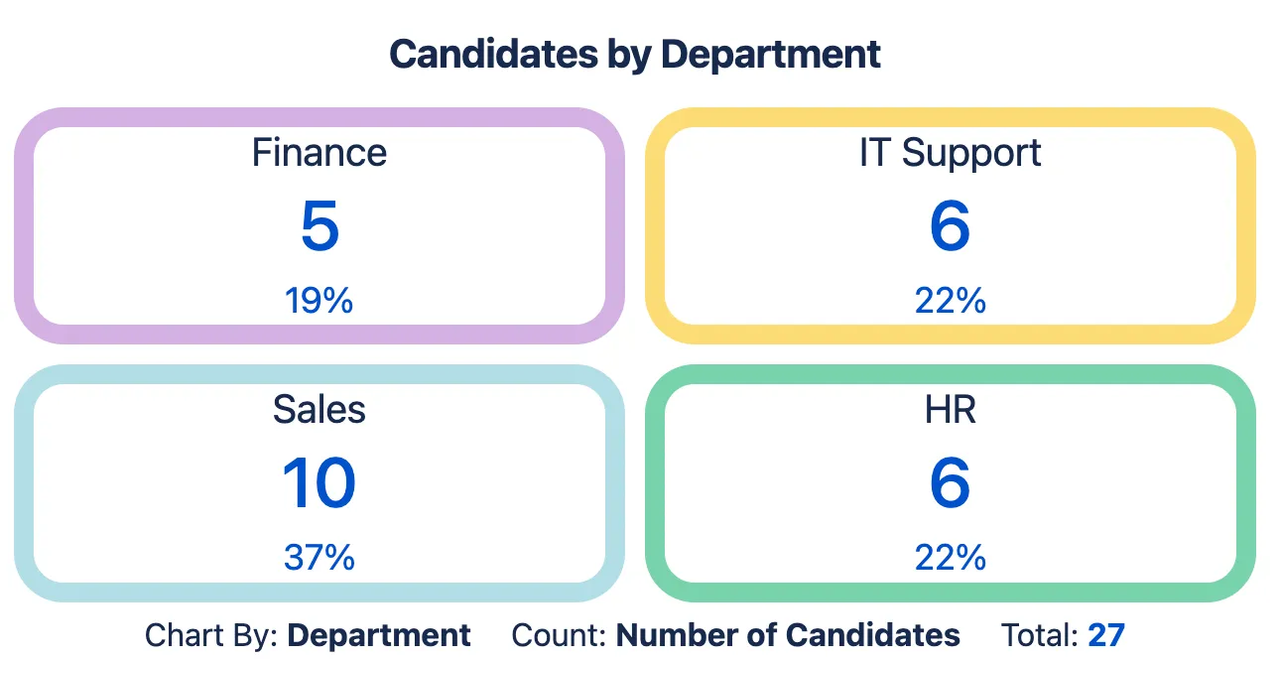 With a quick glance, you can easily understand how many candidates or applications each department has. In the example, 37 percent of the total candidates applied for roles in the Sales department while only 5 percent applied for a role in the Finance department.
Example #4. Candidate details
Having a quick overview of each of the candidates and their details can be very useful if you want to have a general idea of who among them have submitted their applications. In Custom Charts, you can create an Issue List gadget to display such information. You can customize which information would be included in the view such as Status, Candidate Name, Candidate Role, Location, and Source among others. 
Sample Issue List

Summary
We understand that whenever there are multiple open roles in a company, it can easily become overwhelming for the HR team. We know that your hands are already full with screening resumes, interviewing, making offers, negotiating and hiring. The last thing you'd want to do is dig through your emails and documents to have insights of where you are at in your hiring process. 
With Jira, it's a bit limited when it comes to reporting. But with Custom Charts, you can create different types of charts that allow users to easily understand the information at a quick glance. Apart from the charts we used in the examples, the other charts available in Custom Charts include funnel charts, pie charts and 2D stacked bar charts. Our charts also allow you to filter data based on custom fields. 
The Jira Work Management is a great tool for tracking every aspect of the hiring process. However, data gathering and tracking are just one part, reporting is another. Effective reporting strategies allow you to get an insight into your data and be able to convey that information to others who may need it, and this is where Custom Charts can be helpful.